HOW DOES YOUR PERIO CARE FARE?
BLACK TRIANGLES BETWEEN YOUR TEETH?
BLACK TRIANGLES: PREVALENCE AND PATIENT ATTITUDES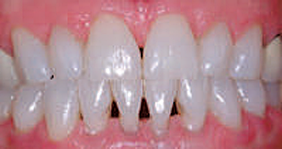 One third of adults have unaesthetic black triangles, which are more appropriately referred to as open gingival embrasures. Besides being unsightly and prematurely aging the smile, black triangles are prone to accumulate food debris and excessive plaque. A recent study of patient attitudes found patient dissatisfaction with black triangles to rank quite highly among aesthetic defects which is mostly related to gum recession and bone loss from periodontal diseases. If you go online and search simply for "dental black triangles" you will be able to view hundreds of patients' black triangle questions.
Better yet, call and schedule an appointment to learn your treatment options and how to help prevent this problem in the first place.
IF YOUR GUMS ARE RECEDING AND SHOWING THE ROOTS OF YOUR TEETH YOU ARE LOSING THE BONE SUPPORT UNDERNEATH. THE GOOD NEWS IS THAT THE GUM RECESSION AND BONE LOSS CAN BE STOPPED WITH PROPER TREATMENT BY A PERIODONTIST.
Periodontal procedures are available to stop further dental problems and gum recession, and/or to improve the esthetics of your gum line. This may involve working with other dentists as a team for your best treatment options.
Exposed tooth roots are dampering your smile and exposing the roots of teeth make your teeth appear too long. You may not be bothered by the appearance of these root exposed areas, but you cringe because of the exposed roots that are sensitive to hot or cold foods, sweets and other liquids.
These tooth roots sometimes decay. There are simple surface sealants available that can successfully eliminate this root sensitivity but this root sensitivity also can be a warning sign of early root surface decay.
Soft tissue grafts can be used to cover roots or develop new gum tissue which is absent due to excessive gingival recession. This can be done for one tooth or several teeth to even your gum line and reduce tooth sensitivity for a beautiful cosmetic result. A soft tissue graft, when needed, can reduce further recession and bone loss, next to dental tooth crowns, veneers and sealants.
Dr. Bleier received his Dental Degree (D.M.D.) from the University of Pennsylvania School of Dental Medicine, and his specialty training with a Clinical Certificate in Periodontology and a Clinical Fellowship in Periodontology while at Harvard School of Dental Medicine and a Certificate in Periodontology from the Veterans Administration in Boston, Massachusetts.
A beautiful new smile and improved periodontal health are your keys to smiling, eating and speaking with the comfort of your own natural teeth with confidence. Remember, dentistry offers good substitutes in many situations, but there is no excellent substitute for your own natural teeth.